It's no secret that brands have to consider mobile to reach today's consumers. We're currently in the process of creating mobile versions of our site and our clients' sites for that very reason. However, just because you want your brand in your target's hand doesn't mean you have to create an app or a game. Everyone wants to say "download our app!" but custom Apps and Games can take a HUGE chunk out of your marketing budget. Plus, apps have to be updated regularly to keep up with phone operating systems, which means you're not budgeting for your app once, you're fitting it in once or twice a year! With a mobile version of your site, on the other hand, you can update your website as usual and the mobile version instantly updates as well. The key is to have the techincal bones of the site developed the right way. Recently more and more users are expressing they would rather visit a mobile version of your desktop website, than download yet another app, as this gif explains: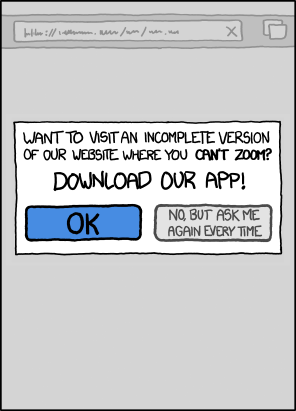 Another option in the mobile space is to integrate your brand into existing apps, like major retailers are doing with ShopKick. ShopKick is a shopping rewards app that gives users "kicks" on certain products when they enter the store. We expect similar rewards apps to start popping up in a big way in the next year. Another example would be even small food brands, like our client CherryBerry, who are making sure thier information can be found in apps like Lose It and My Fitness Pal. And let's not forget leveraging social sharing apps Instagram or the new video app Vine, for contests and fan content creation.
The key is, don't jump on the app wagon just because it's a cool wagon, find the right solution for your brand.